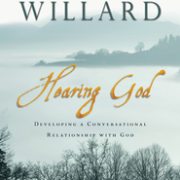 Please prayerfully consider committing six of your evenings during this forty day journey, to a study in small groups on the topic of Hearing God, starting the week of Feb. 15th. How well do we listen? What do we listen for? I can't think of more effective guides into this study than the three people who have put together this mini-lecture series on DVD. The speakers are:
Dallas Willard – Professor of philosophy at University of Southern California
John Ortberg – Senior Pastor at Menlo Park First Presbyterian Church
Richard Foster – author of the classic book on spiritual disciplines, Celebration of Discipline
There is no book to purchase. The modest $7 per person cost underwrites the price of the DVD for each group. If the cost is an issue for you to attend, please see me to arrange for some financial assistance.
Here is a link to the sign-up sheet to join a small group, or for more information on the course. CLICK HERE
If you would be willing to host a small group, please contact me right away. I would love to offer one more small group.