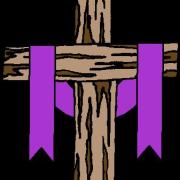 The Third Sunday in Lent
March 8, 2015
10:00 am
Topic: You Are God's Temple
Scripture Lessons (RCL)
The Temple was understood by Judaism to be the central point of God's presence on earth. Every Jewish male, living anywhere in the world, was expected to make the journey to the Jerusalem Temple at least once every 2 or 3 years, to take part in one of the major festival celebrations. The setting for today's Gospel reading is the Feast of Passover and Unleavened Bread. it was a large combined feast, lasting eight days. Jerusalem was filled with Jews from around the world. These travelers needed to buy the animals for sacrifice at the Temple. Even locals would have to buy new animals if the priests found that their animals were unacceptable for sacrifice because of any imperfections. The Temple tax had to be paid. The Temple priests provided moneychangers who would exchange foreign currency for temple currency, which by regulation would not have the image of any person or animal on it. It was a busy scene of strangers, animal cages, merchant's tables, money being exchanged, and the push through the confusion to get through the Court of the Gentiles into the Temple to worship. It was into that scene that Jesus came, on his own pilgrimage to the Temple.
The sacrifice of animals was required for burnt offerings in the Temple (Leviticus 1 and 3); and the Temple tax could not be paid in Greek or Roman coinage because of the human image on these coins. The sale of animals and the changing of money were necessary systems to support Temple worship.
Jesus was not only challenging the abuses of these systems, but he was confronting the system itself. He was attacking the institutional church's religious system that had become so embedded in its own rules and practices that it was no longer open to a fresh revelation from God. It was focused on maintaining itself. Jesus knew that HE was the central point of God's presence on earth. God would no longer make His dwelling place in the stones and timbers of the physical Temple, but instead would make His central presence in the Body of Christ.
John 2:21, "21 But the temple he had spoken of was his body."
Through our faith in Jesus, he offers himself to dwell in us. Scripture describes us as member of Christ's mystical body.
1 Peter 2:5, "5 you also, like living stones, are being built into a spiritual house to be a holy priesthood, offering spiritual sacrifices acceptable to God through Jesus Christ."
1 Cor 3:16, "16 Don't you know that you yourselves are God's temple and that God's Spirit dwells in your midst?"
Saint Teresa of Avila wrote, "Christ has no body now on earth but yours, no hands but yours, no feet but yours."
Through the faith we have vowed in our baptism, we have been set apart by God to be models in the way we look to God in worship and prayer, and in how we relate to other people. Jesus' cleansing of the Temple is a statement that he is now the Temple of God's presence. He dwells in us through the Holy Spirit. We cannot allow that Temple, our bodies, to take on the shape of the un-believing culture around us. We are directed to an individuality that Edwin Friedman called 'differentiation'.  That's the impact Jesus Christ has on our lives. Christ is with us and in us, and Christ calls us into an ever-refreshed, ever-new relationship with God.  The season of Lent give us a time to examine the hidden corners of ourselves, which, like the Temple marketplace, may need the tables overturned, and the rubble cleaned away.
In the context of Jesus cleansing the Temple courtyard, how does this story challenge you and me in our practices at SSITF, and in the Episcopal Church? (SSITF Mission Statement).
How does this story challenge you personally; to perhaps develop your own personal Mission Statement – What is the essential one thing that directs your life?
Through our baptism into Jesus' life, death, and resurrection we have each become a place of residence of his Spirit.  May we commit our lives to be continually focused toward that calling, to be a suitable place for God to live; and may we commit ourselves to God's will, and to be suitable vessels for Jesus' work in the world.  Amen.