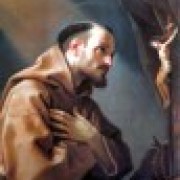 Have you had enough summer re-runs on TV? Would you like to learn from some masters about how they made their walk with Christ something worth writing about?
I suggest two very short and delightful books for your enjoyment.  The first was compiled in the 1400's, to document a collection of short stories that had been circulating since the time of the death of St Francis of Assisi, on October 4, 1226. The book, "The Little Flowers of St. Francis of Assisi" is a classic study of the Saint.
The second book is a collection of letters written by Brother Lawrence, a Benedictine monk, living in France in the 1600's, who became such an example of the spiritual life that people of all walks of life sought him out. A wonderful collection of letters documents his spiritual journey. The book "The Practice of the Presence of God" is short, but packed with great insight into life in the Spirit.
Let's start with St Francis.
Kindle Book Price: $1.99 Click here for Amazon link to this e-book
Paperback Price: $8.99 Click here for Amazon link to this book
Join the conversation.
   On July 18 I will start posting a comment or a question on-line about the first five chapters (12 pages) of "Little Flowers". I will invite your comments. If we move on to the next five chapters, no worries. When you can check in to the on-line conversation, feel free to offer your thoughts up to that point in the book.